How Do I Use PulseLN?
Go To PulseLN.com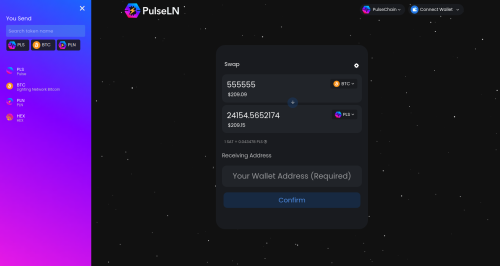 ---
Select Your Asset Pairs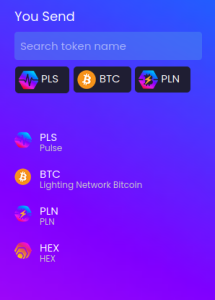 Select the token or coin you want to swap (1st asset) and the asset you want it converted to (2nd asset).
---
Complete The 3 Step Exchange Process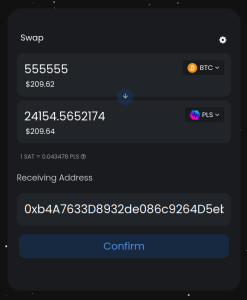 Enter Exchange Details:

Enter the "Amount" of the coin or token you want to swap.
Enter your Receiving Address (if requested, not all swaps require one).
Click "Confirm"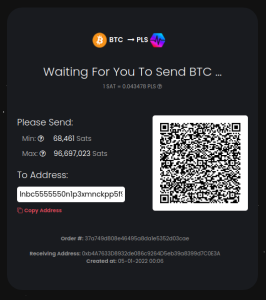 Follow Deposit Instructions:

Pay attention to the Deposit Range provided (Min, Max).
Note your Order # for any potential support requests.
Send the asset you want to exchange to the "To Address:" or QR Code.
Only Send The Specified Asset: Sending the wrong coin or token to a PulseLN deposit address is considered an incorrect deposit. PulseLN can only attempt to recover mistaken coin deposits in certain cases.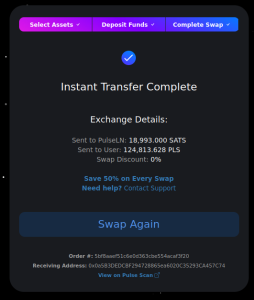 Complete the Exchange:

Wait for the Deposit to be confirmed.
After confirmation, coins or tokens will be sent to your provided Receiving Address from Step 1.
The exchange has successfully completed. Close the page or Swap Again.
Risk warning: Buying, selling, and holding cryptocurrencies are activities that are subject to high market risk. The volatile and unpredictable nature of the price of cryptocurrencies may result in a significant loss. PulseLN is not responsible for any loss that you may incur from price fluctuations when you buy, sell, or hold cryptocurrencies.